JFTECH AI Warning Machine is a multi-function product, it combines the character of single infrared, white and non-light supplementary cameras in the market. The device can be managed by mobile app /JF-VMS, NVR .This article mainly introduce the usage on NVR
JFTECH AI Alert Machine Features:
Four lights, two infrared lights and two warm lights;
SONY darklight, sensor;
HI3516E, H.265, high performance processor;
Anti-corrosion paint, metal rain cover;
Built-in audio;
Built-in POE;
Soft photosensitive control;
H.265++;
Multiple modes to meet different needs
Operation:
1.Power on the IPC and NVR,and make sure the NVR and computer at the same LAN ,you can set the device s network info [Main Menu]—[System]—[Network],the device's default ip is 192.168.1.10
2. Right click the mouse and enter to the "Channel set" page ,no need modify the ipc ip address, NVR can add ipc automatically.
3、After connected ipc successfully ,you can enable the Intelligent Alert function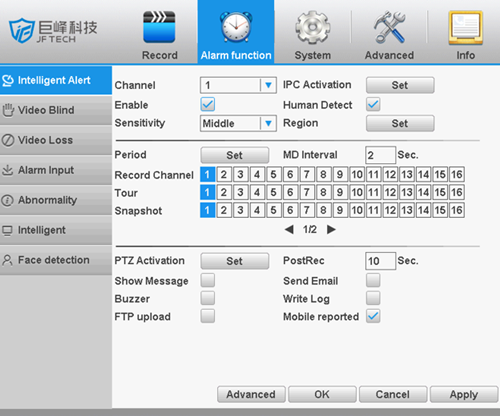 NOTE: the default setting is intelligent alert mode, no need to choose it manually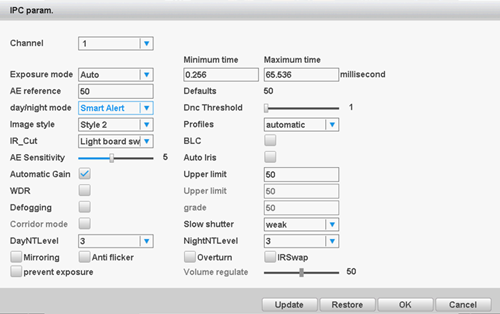 PS: Installation requirement: IPC installation angle is from a downward angle, camera installation height is 2-3.5 meters, camera central sight and horizontal angle are 0-30 degrees, and human shape detection distance is 3-7 meters.